1. Why Modern Dating Makes Me Want to Punch Myself in the Throat
Published on Thought Catalog by Melissa Moeller
The backlash against online dating culture is real. For the last year we've been reading endless articles about Tinder dates, the hookup culture, ghosting, and the paradox of choice in this brave new dating world.
As the tide turns, get ready for endless think pieces on how much we hate online dating and what it's done to us. Leading the charge is Melissa Moeller—with probably the best headline we've seen this week—and her diagnosis of the emotional minefield that modern dating has become.
Online dating is now fraught with constantly changing etiquette, which exhausts even the most experienced daters as they struggle to keep pace. After listing her complaints, Moeller ends with a heartfelt plea: "So here's my idea: let's all stop being little fucks. Respect other people enough to tell them the truth. If someone makes you happy, tell them. If someone inspires you, tell them. If you're not interested in someone, please just fucking tell them."
2. Polyamorous Awkwardness
Published on Cosmopolitan by Tess Koman
So you're about to give up on online dating. But that doesn't mean you expect to find a monogamous relationship (years of swiping have made you cynical about that possibility).
Instead, you start considering a third option: polyamory, a growing trend where two people enter a relationship while still open to the possibility of dating and sleeping with other people. Before you trade one emotional minefield for another, remember that these days the internet is all about confession. And there are plenty of people out there who've willingly bared all so you can learn from their experience.
Enter Eileen and Andrew, a couple who've successfully navigated a polyamorous marriage and are here to tell you all about it. In this heart wrenching video, the couple ask each other a series of intimate questions ("who loves who more" and "who sacrifices more").
The results are brutally honest: Eileen reveals that her bisexuality and Andrew's "instincts" meant that polyamory was an "adapt or die" choice. In the end, the couple's affection shines through—perhaps proving love can transcend even the complications of an open relationship.
3. Drake Says Yeah
Published on The Fader by Jordan Darville
If you've listened to Views 100 times, seen all the memes and read every article ranking Drake songs from best to worst—there's only one thing left to do. Instagram user therealshaq noticed that Drake is pretty consistent with his "yeahs," so he's compiled every single one of them from Views, back to back, for your listening pleasure.
Is it any good? Yeah.
4. Drake Hate
Published on All Hip Hop
Not everyone is into the new Drake album, however. Rapper Joe Budden had a few things to say about it, and it wasn't pretty. Listen below: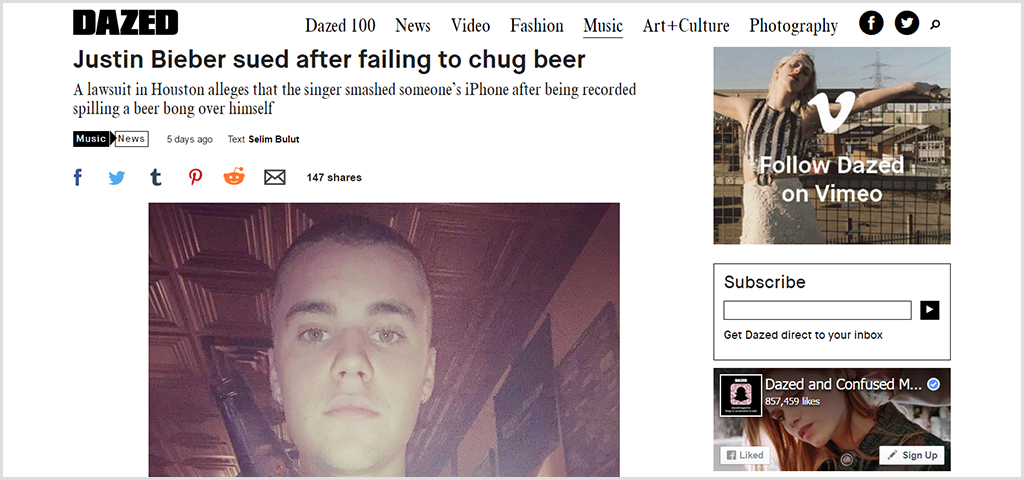 5. Justin Bieber Sued After Failing to Chug a Beer
Published on Dazed and Confused by Selim Bulut
Just when things were going well for the Biebs—his new album's pretty good, and he seems to have been steering clear of ridicule—up pops this headline. Apparently, Bieber was in a Houston nightclub where he failed to chug a beer bong and spilled beer all over himself.
According to the plaintiff, Robert Earl Morgan, Bieber then became enraged at people filming and taking photos and smashed Morgan's phone. Morgan is seeking $75,000 over photos of his grandmother's 90th birthday, which were apparently lost in the incident. Seems legit.
6. I Accidentally Found a New JFK Assassination Conspiracy Theory
Published on Gizmodo by Matt Novak
As if we're not confused enough already by the JFK assassination, Matt Novak brings something new to the table. While pursuing his hobby of cataloguing every movie watched by each president during their presidency (!) he noticed that JFK apparently watched a home movie on November 29, 1963—7 days after he was assassinated! Novak gathered this information from the log book that catalogues all the movies screened at the White House. Someone get Oliver Stone on this ASAP.
7. We Talked to a Romance Novelist to Help You Craft the Perfect Sext
Published on Cosmopolitan by Hannah Smothers
Not getting any traction with your dick pics or cleavage shots? Dirty talk falling flat? Maybe you need some advice from a real-life romance novelist!
Of course, we've all seen As Good As It Gets, so we know that romance novelists are really all grumpy old men who write under pseudonyms and have never been married. That doesn't mean they don't know how to sext though.
Samanthe Beck, author of such classics as Lover Undercover and Best Man with Benefits, gives some good advice here. She advises to "stay true to your voice" to avoid a "Jekyll and Hyde" situation, not to show your crush anything they haven't seen in real life, and add voice memos of moaning to your sext for a little spice. Who doesn't want to add a layer of intense, soap-opera style melodrama to their naughty messages?
---
We've got deals, f'real.
Exclusive offers, discounts, and special membership rates for Review-Weekly.com approved products are all yours. Wanna be email buddies?