---
As you already know in the gay community, if you're not 6'4" with six-pack abs or with a huge penis, chances are someone is judging you and the chance of you finding someone you like are that much lower. GROWLr is great because it welcomes all kinds of guys from all walks of life. It's also a great place to meet bears. What's a bear? A bear is a masculine gay man that belongs to a very inclusive part the gay community. Some are very hairy, some are muscular, and some are heavy-set. Being a bear is about being yourself, and being accepted for it. GROWLr is the place to meet all types of guys from all over the world.
Profiles
7.6
---
Signing up for GROWLr is as easy as meeting a bear in the woods. Head to the app store and download GROWLr for free. Start meeting guys from all over the world within minutes. Before getting started on GROWLr, you'll need to create a profile by signing in with an email. You also need to allow GROWLr to access your location (don't worry, it's not a bear trap). In your profile, describe what you're looking for, what you're into. Keep the bio nice and short. Once you do that—you'll be set to start the bear hunt.
---
Growlr App Preview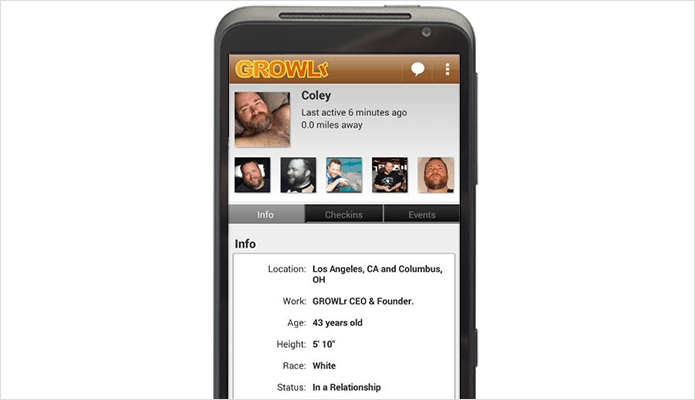 Matching
7.5
---
You could browse guys from all over the world or just in your area; it's up to you. Browsing profiles is free, so if you see someone you like, hit them up. What do you have to lose? It matches you by who's online and who's nearby.
If you are just looking for fun, hit the nearby button to see who's around you. Once you click on their photo you'll be able to check out their bio and learn more. You want to make sure to unlock your private pictures for that person to view all your photos. You have one public picture that everyone can view, the rest are set to private. When someone unlocks them you can view up to three photos for free. To view the rest you'll need to upgrade to Pro.
Filters
7.5
---
Finding your match is easy, you can search based on who is online and nearby. Another great tool GROWLr includes is a search by address function, so you know who's around a specific area. You are limited to the amount of guys you are able to view. GROWLr gives you a good number of guys to view with the free version. However, if you're looking to check out more sexy guys you will need to upgrade Pro for more bears.
Communication
8.4
---
The communication on GROWLr is great! You can search bears, check messages, see who's viewed you, view galleries, check out blogs from users and so much more. And that's all for free. My favorite GROWLr tool is the SHOUT option. Sending a SHOUT will broadcast a message to all users in a defined area that have been active in the last week. You could advertise your business or an event you may be having, or you know what, just say hi. You can choose a location and radius where you want to send a SHOUT. Pick from 5, 10 or 20 miles. From there you can add a message in the box. GROWLr does charge for this tool. 5 miles is $4.99, 10 miles is $9.99, and 20 miles is $19.99. You can also check upcoming events that are happening in your city.
Value
7.9
---
The GROWLr app is free to download and use, you can browse as many guys as you wish and message them as well. You're able to view profiles, search matches, and build your profile for no cost. That's pretty cool. If you're into bears and guys with hair this is the app for you. The men on here are kind, sweet and make chatting fun. GROWLr does charge for memberships when you want to view more than three photos on a profile. By upgrading to Pro you can access all full-sized unlocked private pictures, you'll get 500 more blocks, 100 blogs per week, anonymous viewing, ad-free browsing, 100 more bears on your 'nearby' tab, 100 more bears on your 'online' tab, and the ability to add up to 200 more guys to your favorites.